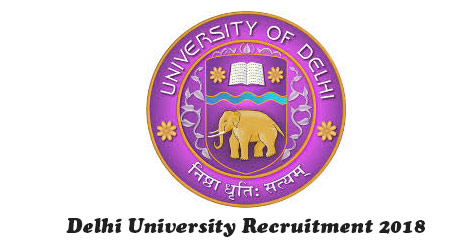 Delhi University publish A Job notification to hire candidates who completed Any Post Graduate for the position of Finance Officer.
Vacancy 1
Finance Officer
Qualification
Any Post Graduate
Vacancies
01 Post
Experience
15 years
Job Location
New Delhi
Last Date to Apply
16/05/2018
Other Details :
1 .Post Name & Pay: Finance Officer – Scale of Pay Level 14.
2 .Essential Qualification: 1. A Master's Degree with at least 55% marks or its equivalent grade of B in the UGC 7 point scale. 2. (i) At least15 years of experience as Assistant Professor in the AGP of Rs. 7000 and above or with 8 years' of service in yhe AGP of Rs. 8000 and above including as Associate Professor along with experience in educational administration, Or (ii) Comparable experience in research establishment and other institutions of higher education, Or (iii) 15 years of administrative experience, of which eight years as Deputy Registrar or an equivalent post level 12.
3. Desirable: Preference would be given to persons having worked in an Organized Accounts Service in Central Government, with similar status.
[GoogleAdsenseHere]

Read more : District Disaster Management Authority Recruitment 2018 for Post of Project Coordinator
India Post Office Jobs vacancy 2018: 2286 Post for Gramin Dak Sevak
Freshers Required Domestic Hindi BPO Call Center Inbound Voice Process
Application Form for Teaching in NCWEB Centres
Here's how to prepare for an interview at Google
362 Vacancies for Diploma Trainees : NTPC Recruitment 2018
Indian Air Force Jobs vacancy for Fresher on Post of Various Airmen
General Instructions :
1. The upper age limit for the posts advertised shall be determined as on closing date of advertisement.Candidate called for interview should report along with all the testimonials/certificates in original along with photo ID. They should carry an additional set of copy of these testimonials /certificates for being deposited with the University at the time of interview
2 .Candidates should not furnish any particulars that are false, tampered, fabricated or suppress any material / information while submitting the application and self-certified copies/testimonials.For the instant advertised posts, which are to be filled on deputation basis, the ACRS/ APARs for the last 5 years duly attested and Integrity Certificate/ Vigilance/ Cadre Clearance report be sent in sealed confidential cover addressed to the Registrar by the concerned employer, failing which the candidature, may not be considered.
3. The University shall verify the antecedents or documents submitted by a candidate at the time of appointment or during the tenure of the service. In case, it is detected that the documents submitted by the candidates are false or the candidate has suppressed relevant information, then his/her services shall be terminated without prejudice to any other action initiated by the University.
Address : University of Delhi, Benito Juarez Rd, South Campus, South Moti Bagh, South Campus, South Moti Bagh, New Delhi, Delhi 110021
Selection Procedure : Selection Will be Based either Written Exam or Interview.
How to Apply : The last date for receipt of application is 16.05.2018 or within two weeks from the date of publication of the advertisement in the Employment News, whichever is later.
(133)